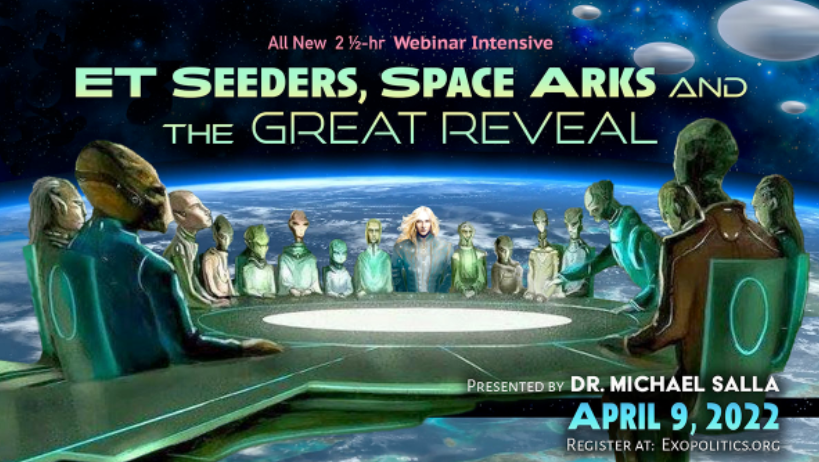 WRITTEN BY DR MICHAEL SALLA ON APRIL 3, 2022. POSTED IN ANNOUNCEMENTS, FEATURED
Much has happened since I first announced the ET Seeders, Space Arks & the Great Reveal webinar two weeks ago. Scientists have reported a massive heat dome hovering directly over East Antarctica, leading to significant melting of the ice sheet. The heat dome is centered over the Vostok region, with Antarctica's largest freshwater lake directly underneath it—two miles down.
According to two of my sources, contactees Jean Charles Moyen and Elena Danaan, there is a space ark parked next to the lake, which they were taken to over the last few days. They saw some of the contents of the ark, which has begun activating after lying in hibernation for thousands of years. In my April 1 article, I show that their claims are consistent with scientific data about a large magnetic anomaly at one end of Lake Vostok first detected in 2001—which many researchers have speculated to be an enormous ancient city.
What's important to note about the Vostok region and the lake directly under it is that Russia has long controlled the area through its Vostok Research Station, operating since 1957. A new Russian research station was built in 2019/2020 and has led multinational missions in drilling through the ice sheet to explore the lake. Rather than a freshwater lake being the target of these scientific expeditions, the hibernating space ark was Russia's primary interest. Russia has been gathering intel for future covert military missions to gain access to the ark!
This is where information from my US Army source, JP, becomes critical. In addition to traveling to two arks under the Atlantic Ocean and on the Moon as a member of multinational missions, he learned about an ark discovered near the city of Kherson, Ukraine, at Oleshky Sands National Park, which was discussed in my March 3 article. JP says that the Russians are activating the Vostok ark by traveling to it through a portal device found inside the recently captured Ukraine ark.
JP stresses that the arks are all connected through portals enabling instantaneous travel between them. He has stressed the interconnectedness of these activating space arks, which means that the countries controlling each of them must share access with other nations for the linked network of space arks to reveal all of their secrets. This appears to be a critical function for these arks. Their ancient builders did not want the arks to be found and controlled by any one nation, but by a unified global civilization.
There is so much information flooding in right now that it's hard to keep up with all the updates and exopolitical developments. This is electrifying info, and I will be releasing more articles and podcasts about new developments in the days and weeks ahead—these are always free, so subscribe to my website or podcast channels to receive them.
At next Saturday's webinar, I will integrate all the newest data to help everyone understand the mindblowing exopolitical picture happening on our planet and in the solar system. It really is incredibly exciting how everything is building to a "Great Reveal" involving the ET Seeder races and ancient space arks that will change life on our planet forever. Join me for the April 9 webinar, which is how you can best support my expolitics research. There is still time to register for what will be a groundbreaking webinar.
Michael E. Salla, Ph.D.